The PEERtrainer Cheat System Diet Cookbook Simplifies Weight Loss
Get It For Free Right Now!
When you enter your email in the form on THIS page, we will be sending you a free copy of The Cheat System Diet Cookbook which is a 50 page recipe guide that we normally sell for $14.
4 Reasons The Cheat System Diet Cookbook Works So Well:
1. You will start to see yourself eat well because it's easy to do so with these tricks and recipes.
2. You will start to feel full because you're eating nutrient rich foods.
3. You will have the process of ways to make vegetables taste great de-mystified.
4. You'll make small steps because it's easy to and you'll start to discover flavors and foods that you never thought you'd like. And they become a big part of your life.
You will also be sent a copy of the innovative PEERtrainer Cheat System, which is a healthy eating and weight loss plan that is literally impossible to fail on.
The PEERtrainer Cheat System is a simple to follow diet, that makes weight loss easier and less frustrating. The objective is to help guide you towards a way of eating that will make it easier to lose weight, give you more energy and help you feel better. When you enter your email below you will be sent a free copy of the diet!
The Cheat System has also been turned into a major book to be published May 6th, 2014. Here is a preview of the cover:
Here is a quick summary of the important details of the PEERtrainer Cheat System
1. You CANNOT FAIL on The Cheat System Diet. The word "Cheat" was used deliberately because we know that cheating when eating is NORMAL. This is a system that was built on how the brain works. Try it, and you will see for yourself. Start with the recipes, and then get the book to learn the whole system!
2. It Is Easy To Do. The PEERtrainer Cheat System consists of two lists of foods, and a simple incentive system. We want to keep it as simple as possible. We have done the work for you.
3. Opens The Door To Massive Transformation. A lot of people have made incredible transformations using the Cheat System Diet. But one thing we have observed is that everyone makes progress at different speeds. It is critically important. The Cheat System Diet allows you to go at your own pace. You can do as much or as little as you want. Feeling badly about yourself is not allowed!!
Conclusion:
We want to guide you towards as much of "the good stuff" as we can. But also give you a way of staying on track where you don't feel badly about yourself, or end up beating yourself up because you can't stay on track.
We have also created a Cheat System Video Instruction Series which helps you use the system. We teach you the two things that you must do to start losing weight, and then we take you on a journey to more advanced topics and tools.

This video instruction series is brand new and teaches you everything that we see set you up for success. We also teach you the exact things that set you up for failure. The video instruction series, like the PEERtrainer Cheat System is free.

When you sign up by entering your first name and email below, you will immediately be taken to the first instruction video. In that video you will get some important tips to help you get started, as well as a little intro to PEERtrainer if you are new:
The PEERtrainer Cheat System has now been turned into a major book!!
Here are some comments from leading experts:
"The Cheat System Diet" is a fantastic book for many reasons. Firstly, it works in a real way with how human psychology works...everyone is looking for a way out...and this book gives it to you...step by step. I love also that it relates closely to how the brain likes to function...without crazy effort and with significant short-term gains.  And most of all, it is really congruent with how the author lives her life. For anyone who loves food but wants to lose weight without their brain objecting," The Cheat System Diet" is for you." I am certain that you will not only NOT be disappointed, but that you will also be ecstatic with what you are allowed to eat while still losing weight."
--Srini Pillay, MD, Harvard Medical School
"The Cheat System Diet is brilliant! Jackie Wicks understands how the brain works, and how habits are developed in the real world. This book clarifies why portion control is so hard, and makes it crystal clear why her "eat" foods will extinguish hunger. This breakthrough plan is realistic, loaded with practical information, and will add years of health you your life."

--Steven Masley, MD, FAHA, FACN, FAAFP, author of The 30-Day Heart Tune-Up, Assistant ProfessorUniversity South Florida
"In this breakthrough book, Jackie Wicks reveals a food plan that won't perpetuate the tiresome diet - stress - fail pattern. The Cheat System Diet gives you the template to lose weight without sending your hormones in a disastrous death spiral."
–Sara Gottfried, MD, New York Times bestselling author of The Hormone Cure, Graduate of Harvard Medical School and MIT

"The Cheat System Diet perfectly melds what works for weight loss with what works for people. The result is a fabulous diet that won't just help you lose weight, but that you'll actually want to stick to!"
–JJ Virgin, author of the New York Times bestselling The Virgin Diet
Both the Magic Fridge and the Cheat System help you avoid metabolism killing foods like canola oil, corn, sugar, processed whole grains and certain forms of dairy.
We really hope you enjoy all of this, and we always look forward to hearing from you!
Regards,

Jackie Wicks, PEERtrainer Founder
Get Started Toward Cleaner, Healthier Eating, And Fail-Proof Weight Loss With These 2 Free Downloads!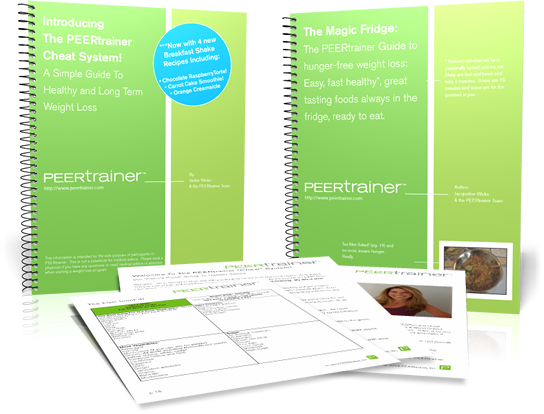 "By far one of the simplest systems I've ever tried and produced the results I wanted; it helped me lose 50 pounds and transition my way into making permanent changes in my eating style."
- Erin Evelyn, Flint, MI, USA

Included In The Magic Fridge Recipe Guide:

-Chocolate Decadence Breakfast Smoothie
-9 Spice Shortcuts That Make Anything Taste Great
-2 Easy Magic Fridge Salad Dressings
-Magic Fridge Guide To Cheap And Easy Greens
-5 Magic Fridge Kitchen Essentials That Make Your Life Easier
-Magic Fridge Snack Essentials
-Magic Fridge Lettuce Wrap Recipes Inspired By PF Changs
-No Fail Instant Access Protein Recipes
-365 Days A Year Soups That Work Like "Diet Pills"
-The Famous PEERtrainer Energy Soup Recipe
-New Weight Loss Shortcut Soup. East To Make, Easy To Eat
-Mom's Cook Crisp Gazpacho Soup Recipe
-Warm Applewood Bacon Soup Recipe
-Bottomless Tex-Mex Crunch Salad With Potato Chips (Yum!)
-Italian Salmon Scampi
-Japanese Sesame Chili (Easy!)
-Hunger Blaster Indian Chile (Guys LOVE This)
-Apple Pie For Breakfast Recipe
-Mom's Blueberry Almond Fluff (Careful This Is Dangerous!)
-Yummony Lemony Hummus Grab n Go (Blended Yum)
-The "I'm Not Starving Anymore" Spinach Dip (Fights Insane Man Hunger)
-And More!!!!!